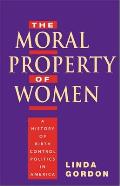 Purchase at Powell's

This volume, the third substantially revised and updated version of Woman's Body, Woman's Right, is the only truly comprehensive study of the political and social history of birth control in the United States. It traces the history of birth control from the point of view of "those at the center of the conflict, namely women seeking sexual and reproductive self-determination." It is so thorough, so complete, and so well argued that it promises to set a new standard for scholarship on the political history of birth control.
Journal of American Culture
Choice Magazine's Outstanding Academic Books for 2004: The only book to cover the entire history of birth control and the intense controversies about reproduction rights that have raged in the United States for more than 150 years, The Moral Property of Women is a thoroughly updated and revised version of the award-winning historian Linda Gordon's classic history Woman's Body, Woman's Right, originally published in 1976.Arguing that reproduction control has always been central to women's status, The Moral Property of Women shows how opposition to it has long been part of the conservative opposition to gender equality. From its roots in folk medicine and in a campaign so broad it constituted a grassroots social movement at some points in history, to its legitimization through public policy, the widespread acceptance of birth control has involved a major reorientation of sexual values.
Gordon puts today's reproduction control controversies--foreign aid for family planning, the abortion debates, teenage pregnancy and childbearing, stem-cell research--into historical perspective and shows how the campaign to legalize abortion is part of a 150-year-old struggle over reproductive rights, a struggle that has followed a circuitous path. Beginning with the "folk medicine" of birth control, Gordon discusses how the backlash against the first women's rights movement of the 1800s prohibited both abortion and contraception about 130 years ago. She traces the campaign for legal reproduction control from the 1870s to the present and argues that attitudes toward birth control have been inseparable from family values, especially standards about sexuality and gender equality.
Highlighting both leaders and followers in the struggle, The Moral Property of Women chronicles the contributions of well-known reproduction control pioneers such as Elizabeth Cady Stanton, Margaret Sanger, and Emma Goldman, as well as lesser- known campaigners including the utopian socialist Robert Dale Owen, the three doctors Foote--Edward Bliss Foote, Edward Bond Foote, and Mary Bond Foote--the civil libertarian Mary Ware Dennett, and the daring Jane project of the 1970s, in which Chicago women's liberation activists performed illegal abortions.