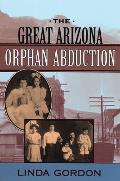 Purchase at Powell's

In her gripping book, Linda Gordon has written a model study of the creation and maintenance of race relations that manages to capture both the breathless sensationalism of the era's tabloids and the complexity … an ingenious narrative device enables her to reconstitute the distinct social structures of the area while rendering a taut journalistic account of the unfolding drama…. The magnificence of her achievement: her masterly assembly of the historical detail and acute sensitivity to the intricacies of human relations as mediated by power, prejudice and the passage of time.
New York Times
"This is an unusual and interesting work of history, whose chief strength lies in the way it lovingly recreates the spirit of a particular Arizona community and, through its insistence on micro-historical detail, gives the reader a sense of how racial assumptions and antagonisms operated within everyday life."
Times Literary Supplement
"Gordon's extraordinary achievement in this book lies in her narrative strategy as much as in her insights as a social historian. . . . Class and the dangers of copper mining are the aspects of the story most clearly represented in the extraordinary photographs that illustrate the book. . . . The complexities of class, race and gender, of labor and bigotry and greed . . . are what this book is about."
Women's Review of Books
"Linda Gordon's splendid book takes an episode that might have been seen as a bit of western exotica and makes of it a painful revelation of American life and character, not only in its day but in ours."
Journal of American History
Most of all, Linda Gordon's emotionally gripping and frequently amusing account of "the great Arizona orphan abduction" is a good read. It is a fine example of "nonfiction narrative" or "narrative nonfiction," and holds the potential to attract new readers to women's history and history in general. The motley crew of lead characters affirms once again the old adage that reality can be stranger than fiction.
Journal of Women's History